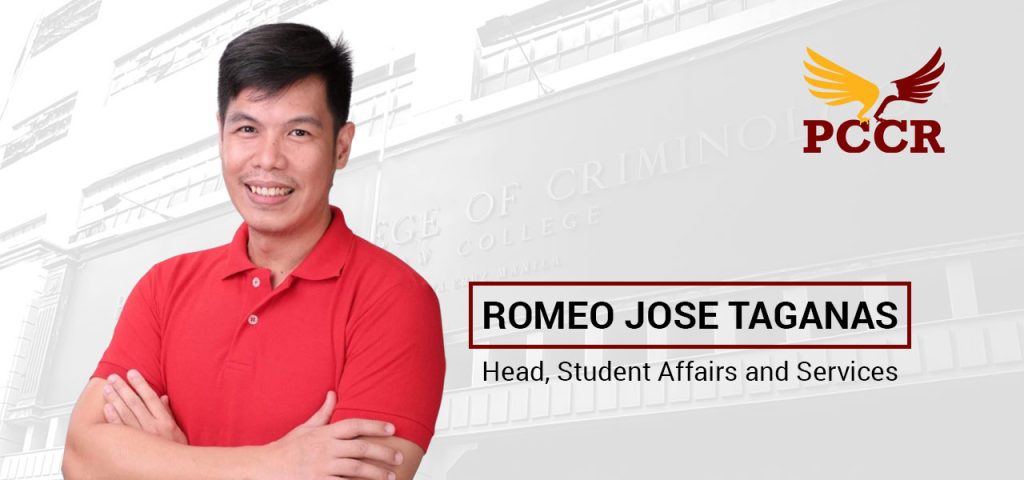 With a heart for student-centered education and embodying the values of Discipline, Empathy, and Service, Philippine College of Criminology (PCCR) Student Affairs and Services (SAS) Department recently hired former Colegio de San Lorenzo Student Affairs Director Romeo Jose Taganas as its new Department Head. Following the latter school's recent closure, Taganas says he felt right at home with the warm and friendly welcome he received upon joining the Batang 641 Community.
With his guidance and leadership, RJ (as he is fondly called) hopes to create a student-centered atmosphere in the department, which is friendly, fair, but firm. He hopes to be able to instill PCCR's Core Values of Leadership, Excellence, Accountability, Discipline, Empathy, Respect, Service, Humility, Integrity, and Perseverance in the hearts of all Batang 641, while equipping them with essential skills needed to advance in life. With these, RJ hopes that each PCCR student will be more professional and responsible upon graduating from the hallowed halls of 641 Sales Street.
Having close to a decade of experience in instruction and human relations, RJ finished with a degree in Philosophy and Human Resource Development. He pursued his studies in Philosophy by entering the seminary, but eventually left to enter the corporate arena. Prior to entering the academe, RJ worked in recruitment for a thrift bank and as an English as a Second Language (ESL) instructor with a Korean Online Language Instruction company.
Despite the difficult situation with the closure of his formal school, Taganas is grateful for the opportunity given to him by PCCR. He expressed his appreciation to the PCCR management and administration for taking him in as a new leader, and vows to be among the advocates of transforming the lives of all Batang 641 for the better.