by: JACTabalanza and EMSolomon
The Philippine College of Criminology (PCCR) proudly celebrates the outstanding success of Maria Ria Estrada Velasquez, a Batch 2022 alumna of the Bachelor of Science in Criminology program who ranked fifth in the recent April 2023 Board Licensure Exam for Criminologists (BLEC). Maria Ria's achievement is a testament to her hard work and dedication, as well as the unwavering support of her family, friends, and the PCCR community.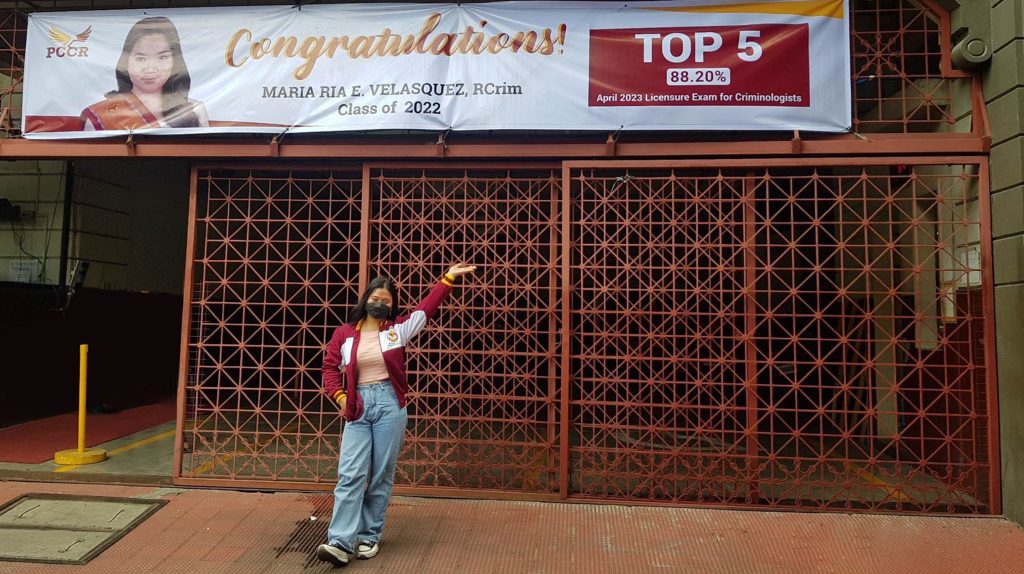 Maria Ria's accomplishment is a source of immense pride for her parents, Ms. Ria Estrada and Mr. Fernando Velasquez, who consistently encouraged her to follow her passion. Her father expressed his confidence in her ability to pursue any goal she wishes. She also credits her partner, Jerome Legaspi, for his invaluable support throughout her exam preparation.
Maria Ria describes herself as a reserved individual who prefers to stay low-key in class, but her academic excellence and appreciation for true friendship have earned her the admiration of her professors and peers. In turn, she expresses gratitude to her professors and friends who helped her grow into the individual she is today.
Maria Ria's exam preparation is a testament to her perseverance and dedication. Despite the challenges she faced, including the hurdle she faced in reviewing topics in Law Enforcement Administration (LEA), she maintained a rigorous study schedule that began at 6 AM and lasted until 8 PM with only a lunch break in between. Her commitment paid off, and she emerged successful in the BLEC.
Looking ahead, Maria Ria plans to continue pursuing her passion for Criminal Justice and ultimately become a lawyer. She credits PCCR for providing her with the foundation for her success, and she hopes to give back to her fellow PCCR students by supporting scholars. Her advice to other PCCR students is to stay focused, never give up, and appreciate the support of their parents.
PCCR is honored to have played a role in Maria Ria's success and is constantly striving to improve its academic programs, research agenda, and community initiatives. As a token of its appreciation, PCCR will be awarding Maria Ria a cash prize of Php 750,000. Maria Ria's inspiring story serves as a reminder that with perseverance, determination, and support from loved ones, anything is achievable. Congratulations, Maria Ria Estrada Velasquez, on this remarkable accomplishment!