For the Good of the
Public and the Country
"Pro Bono Publico Et Patria"
For the Good of the
Public and the Country
"Pro Bono Publico Et Patria"
For the Good of the
Public and the Country
"Pro Bono Publico Et Patria"
For the Good of the
Public and the Country
"Pro Bono Publico Et Patria"
For the Good of the
Public and the Country
"Pro Bono Publico Et Patria"
College of Criminal Justice
The Bachelor of Science in Criminology is a four-year degree program that studies crime and the various agencies of justice roles as they operate and react to crime, criminals, and victims.
The Criminology program aims to provide the community with professionally competent and morally upright graduates who can deliver efficient and effective services in crime prevention, detection, and investigation, law enforcement, public safety, custody and rehabilitation of offenders, criminological research, among others.
Graduates of the program possess the required knowledge, skills, attitude, and values necessary to address the problems of criminality in the country. They match the character and competence to meet the global challenges in criminal justice.
The B.S. in Criminology program is a Level II Re-accredited Program awarded by the Philippine Association of Colleges and Universities Commission on Accreditation (PACUCOA). The program is handled by faculty members who are industry practitioners and academic experts in Criminology and Criminal Justice, all of which have completed aligned post-graduate degrees and continuously undergo training worldwide. Students use PCCR's library and forensic laboratories learning resources, the most extensive among all higher education institutions offering the Criminology program in the Philippines.
PCCR has consistently been recognized as a top-performing institution in the Professional Regulation Commission's Criminologists' Licensure Examination, with its graduates often clinching multiple spots among the top 10 board takers.
With a degree in Criminology, students are on track on achieving their dream to become a:
Lawyer
Police Officer
Jail Officer
Corrections Officer
Parole Officer
Fire Officer
Criminal Intelligence Investigator
Forensic Specialist
Criminal Laboratory Examiner
Polygraph Examiner
Fingerprint Examiner
Ballistician
Fraud Investigator
Signature Verifier
Air Marshall
Sea Marshall
Environmental Protection Officer
Data Scientist
Forensic Computer Analyst
Public Policy Advisor
Security Consultant
Personal Protection Agent
Security Specialist
Private Detective
Researcher
Academician
Requirements
Freshmen:
Original and two photocopies of Transcript of Records (TOR)
Original and two photocopies of baccalaureate degree Diploma
Certificate of Good Moral Character from the college/university where baccalaureate degree was completed
Two 2×2 ID pictures
Transferees:
Certificate of Honorable Dismissal from the last law school attended
Original and two photocopies of Transcript of Records (TOR) or Certified Copy of Grades from the last law school attended
Certificate of Good Moral Character from the college/university from the last law school attended
Two 2×2 ID pictures
Letter of Application with the following details:

Complete name
Date of birth
Sex
Residential address
Contact number
Name of last school attended
Baccalaureate degree completed
Year baccalaureate degree was completed
Occupation (if applicable)
Name and address of employer (if applicable)
Name of parents or persons to contact in case of emergency and their contact details
PCCR Alumni Association Board of Trustees
Notable Alumni
P/LT. COL. ROSALINO P. IBAY

Chief, MPD SMaRT (Special Mayor's Reaction Team), City of Manila; COPS 2017 Awaardee, Metrobank Foundation
BS Criminology Batch 1999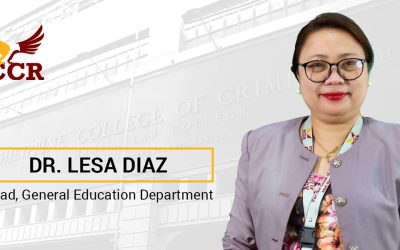 As a testament to its drive for Quality Education and Leadership, The Philippine College of Criminology (PCCR) recently improved its academic line-up with the addition of its new General Education Head Dr. Lesa Diaz. With more than 20 years of academic leadership...
read more